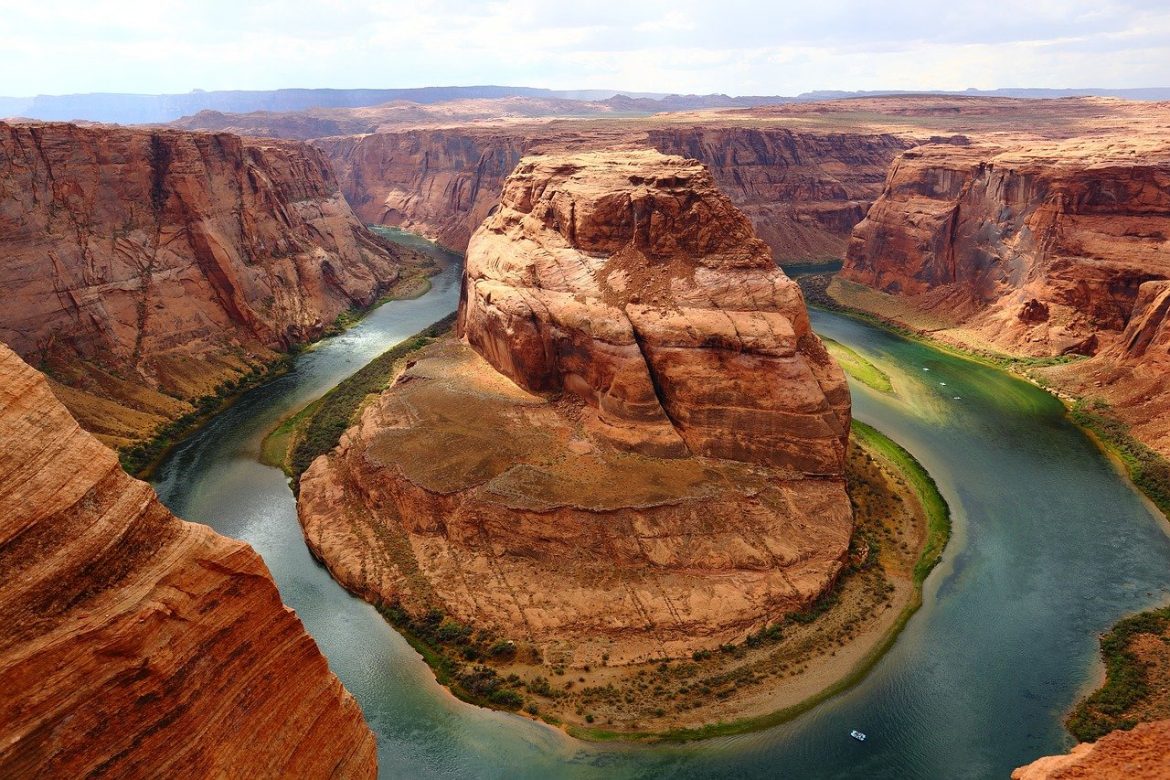 For decades, California's been a dream state to reside in for just about anyone. Sunny beaches, beautiful weather, and a luxurious lifestyle are only a couple of the reasons why the Golden State has always been so alluring. And while the benefits of living there indeed are many, the costs often discourage people from making it their permanent residence. Arizona, on the other hand, is a whole different story. Unjustly overlooked, this neighboring state offers some of the same things California does, only with one bonus: a heftier wallet. However, before calling the land of the Grand Canyon your new home, informing yourself about all the pros and cons of moving from California to Arizona is highly recommended.
Pros of moving from California to Arizona
Swapping one state for the other certainly has its perks. You'd be surprised just how many advantages life in Arizona comes with.
Median home price is significantly lower
According to recent numbers, the median home price in Arizona is around $300,000, making it approximately $150 per square foot. Meanwhile, if you're looking to buy property in California, be prepared to invest as much as $600,000, or roughly $300 per square foot. Considering the cost of real estate is at least twice as high, trading California for Arizona seems like an obvious decision. Of course, the actual price of housing depends on many factors. It can also vary depending on where exactly in the state you'd like to make a purchase. An apartment in the downtown area of a big city, such as Phoenix, is most definitely going to cause a more significant dent in your budget.
Naturally, not everyone can afford to have their name on the deed. The good news is that, even if you're looking for a place to rent in Arizona, you're going to save an abundance of money! Finding a studio for a monthly fee of only $700-$800 is more than doable.
The appealing property tax rate
If affordable housing wasn't enough to convince you to leave California, the slightly lower property tax of its sunny neighbor could potentially be the deal-breaker. The state's average tax rate falls around 0.62% of the home's assessed value. On the other hand, the Golden State's tax rate isn't the lowest, but it's neither the highest, being at 0.73%. While the difference between the two isn't that significant, a surplus of $300 to $400 a year is guaranteed.
Move from California to Arizona if you are looking for a larger living space
Relocating to Arizona comes with another benefit: having a larger home. The average size of this state's typical residence is 2500 square feet. Despite the fact that, in recent years, the median size of a Californian home has increased to as much as 1800 square feet, this could still feel a bit tiny to some people.
Architectural diversity
The Copper State is anything but plain! One look at the buildings here is enough to convince anyone that Arizonians are incredibly creative. There are a plethora of architectural styles present, all influenced by the rich history of this place. Arguably, some of the most popular ones are Mediterranean style, Pueblo Revival, and bungalows. Compared to California's luxurious, modern, but somewhat uniform houses, Arizona's landscape truly is a sight for sore eyes.
The overall cost of living makes moving to Arizona a no-brainer
While the price of real estate could very well be the sole reason behind most people's decision to leave California, the overall quality and costs of living could also play significant roles in it. Groceries are said to be up to 30% cheaper in AZ, transportation around 16%, while dining out could potentially save you up to 25% of funds. The unemployment rate is a bit lower too, standing at 8% compared to CA's 9.3%.
Cons of moving from California to Arizona
Nothing is perfect, and neither is living in Arizona. While it comes with numerous benefits, there are also some disadvantages to making the move.
Higher insurance rate
The average home insurance rate is higher in Arizona. It being around $1960 certainly is a downside, considering California has an average rate of $1160. However, considering other pros and the amount of money one can save through other means, moving from California to Arizona still seems like a smart decision.
If looking for a modern house, California's a safer bet
Life in Arizona certainly isn't for everyone, especially not for those seeking more modern-style homes. While there surely are modern houses in Arizona, a more comprehensive range of those is available in California.
High sales tax
With a sales tax of roughly 8%, selling property in Arizona later on could be slightly challenging. The number seems even higher when compared to New Hampshire, Delaware, Montana, and Oregon, which have no sales tax.
Tips for moving from California to Arizona
Hire a professional moving company for a pain-free move to Arizona
Moving between states isn't something you'd want to organize all by yourself. It would take more time, you would probably have to pay more, plus you would risk your belongings getting lost or becoming damaged. Instead, hire a reliable moving company that will take care of this process for you! If possible, it's better to opt for one specializing in interstate relocation. Plus, while waiting for movers to deliver your things, you could take time to explore some of the good sides of living in Arizona.
Take a road trip to your future home
California is significantly larger than its neighbor. However, the latter is far from tiny. If talking about the land area, it's actually the 6th largest state in the US! Therefore, if wanting to make Arizona your permanent residence, bear in mind that there are many differences between the southern and northern parts. When choosing the city to relocate to, just doing simple research isn't going to cut it! Instead, go on a road trip to familiarize yourself with the amenities of various destinations. Once you find a part you feel could be called a home, you can start house hunting with the help of a local real estate agent.
Relocating in the summer can cost less
The Copper State is famous for its heatwaves during the summer. Because of this, naturally, the majority of people moving from California to Arizona tend to avoid this season altogether. They instead opt for milder seasons, such as winter and spring. However, if saving some more money is your ultimate goal, you should certainly defy logic and start the moving process during the hot months. Loads of companies have discounts then, as well as more time to handle all of your requirements.