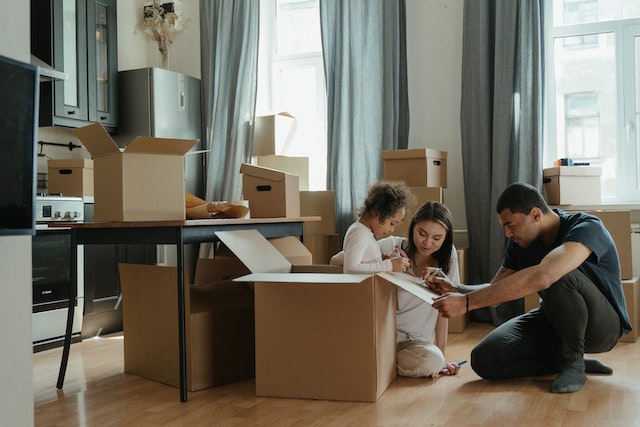 Moving to a new house is an experience that can be overwhelming for many. Often you find yourself standing in front of a pile of unpacked boxes and don't know where to start. Therefore, we made you a list of 7 things you should do after moving into your new home, which will hopefully help you begin a new life in your new house.

1) Safety first

The first thing you need to do after you say goodbye to your old home is to ensure your and your family's safety. Here are some suggestions on how to prevent unwanted events, whether they are caused by burglars or accidents that may occur.

Change the locks

You never know how many previous residents have keys to your new home. Find a locksmith and change door and window locks as soon as possible. If your home has an alarm system, reconnect the service or choose a new provider.

Check smoke detectors and fire extinguishers

Smoke detectors, fire extinguishers, and carbon monoxide alarms are essential for the safety of your home. Be sure to check the detectors and change the batteries in them. Also, check that fire extinguishers are functional and in place.

Childproof your home

If you have small children, don't forget to childproof your house. Pay attention to outlets, sharp edges, and other potential hazards for your children.

Get appropriate insurance cover

To protect your possessions and belongings from damage in the event of theft or damage, you must have adequate insurance. It is better to be safe than sorry.

2) Unpack the essentials first.

Moving into a new home can last for days. Therefore, before you even start packing, you should separate the most important things into separate boxes, so they are at hand immediately after moving in. You can make one for the whole family or each member individually. Toothbrushes and other hygiene products, clothes for the first days, towels, and toilet paper are just some of the things you will need from the moment you step into your new home. But it's hard to remember everything. That is why you need a rolling inventory list to know what is at your disposal and where. It will make things easier later when you quickly need to find items you want or check if you forgot something in your old home.
3) Make a to-do list

One of the most important things you should do after moving into your new home is to check the house's condition when you move in. Carefully check all parts of the house from top to bottom to see if you overlooked any potential problems. Pay attention to worn-out or leaking water pipes, dripping faucets, or mold. Also, check the electrical lines, lighting, and the condition of household appliances. After you complete the check, make a list of repairs you plan to do in the next period according to urgency.

The changes and repairs you are doing in your new home are the right time to make your home greener and save you money in the long run. Invest in proper insulation, energy-efficient light, energy-star appliances, or smart thermostats.

4) Get to know your new neighborhood

Although you probably purchased your new property keeping in mind the importance of its location and your needs concerning it, it is still important to familiarize yourself with all the possibilities that your new neighborhood has to offer.
Spend time driving around and locating shopping malls, schools and entertainment facilities for children, and parks. Plan the best routes and check how long it will take you to get there.
Make an effort to get to know your new neighbors. Get involved in the community. Host a party.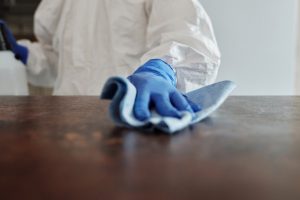 5) Deep cleaning – one of the things you should do after moving into your new home

Without a doubt, we all want our new home to be spotlessly clean. The deep cleaning you are planning will be much easier if you do it while the furniture and all your other stuff are not in the house yet. Make sure to clean from top to bottom to avoid dirt and dust falling on surfaces you have already cleaned. Pay special attention to the bathroom and kitchen. Clean and disinfect the inside of the refrigerator. After unpacking, you will have a lot of trash and empty boxes. Make sure to recycle everything or donate the boxes to someone that needs them. If you don't have enough time available and your budget allows it, consider hiring professionals to do the job.
6) Post-move paperwork you need to handle

If you haven't already done so during the move, make sure you change your address as soon as possible. Contact your bank and the postal office. You need to start using your cards without any issues. Changing addresses on your car insurance policy and driver's license should be at the top of your priority list. Also, change your address with any services and subscriptions you might have. Don't forget to forward your new address to all your friends.

7) Do decorations

To be completely satisfied with how your house looks, you need to decorate it based on your taste. Before you unpack, take a good look at the interior and try to recognize if your home has the potential to become the house of your dreams. Organize and decorate it however you like – so you feel at home.
Final thoughts
The process of moving into a new home is stressful by itself, let alone the obligations that come with it. Since it's challenging to put yourself together in such a chaotic situation where you need to think about several things simultaneously, we are here to help. We made a list of 7 things you should do after moving into your new home. Hopefully, you will find it useful and good luck!